Eric Rodda
1916 – 2016
On 18 March 2016, family and many friends of Eric Rodda gathered at Scorrier Chapel, near Redruth, to remember and celebrate the life of a quietly outstanding Christian man.
Peter Ham,

pastor of Tuckingmill Baptist Church, Camborne and Eric's nephew (with the help of John Pengelley).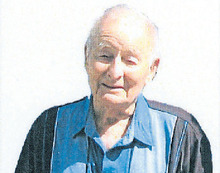 Eric was part of the Rodda family firm which makes Cornish clotted cream, and the last of his generation. For many Cornish people, cream equals Rodda's.