Turkey: church attack
Four men detained by police for attacking a church building in the Black Sea region of Turkey last week shouted jihadist slogans when released from jail, a marked departure from past harassment, church leaders said.
Morning Star News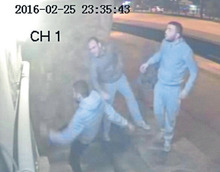 Shortly after 11.30pm on 25 February, the four Muslims went to a building rented by the Agape Church Foundation in Samsun and tried to get someone to come to the door. Initially two of the four men rang the doorbell on the building, used by the church group for worship and teaching, but seconds later two others arrived who began banging on the door with their fists and then tried to kick the door open.