Flood of opportunities
Despite being forced out of the building they meet in because of December's flood-ing, Carlisle Baptist Church (CBC) has seen tremendous opportunities for the gospel in the months that have followed.
FIEC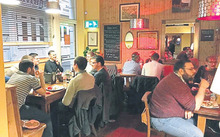 In February, CBC held an evangelistic men's meal, where one of the elders who has been forced out of his flooded home was interviewed about his faith. Around 30 men attended the meal, with about a quarter brought along by church members.