Cuba: church demolished
Emanuel Church, a large church in eastern Cuba affiliated to the Apostolic Movement, an unregistered Protestant denomination, was demolished by the authorities on 5 February while hundreds of church members were detained.
Christian Solidarity Worldwide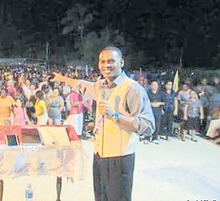 The property of Reverend Alain Toledano in Santiago de Cuba was surrounded by officials including members of the police, state security and the military at approximately 5am. They detained his wife, Marilín Alayo Correa, before demolishing both Emanuel Church and the pastoral home.