The gospel and the body
An interdenominational conference entitled 'Our Bodies Proclaim the Gospel', took place 14 –16 January at the Emmanuel Centre, Westminster.
Andrew Symes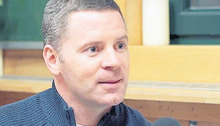 The main speaker, Christopher West, is a Roman Catholic, but his core points were biblical. He began by noting that human desires are created by God to propel us upward towards ultimate union with Christ, of which the pleasurable, creative union of covenant faithful heterosexual marriage is the physical picture.