LONDON'S QUESTIONS OF LIFE
With 140,000 people working and 40,000 living in London's Canary Wharf, how are they going to hear the gospel?
Naresh Mistry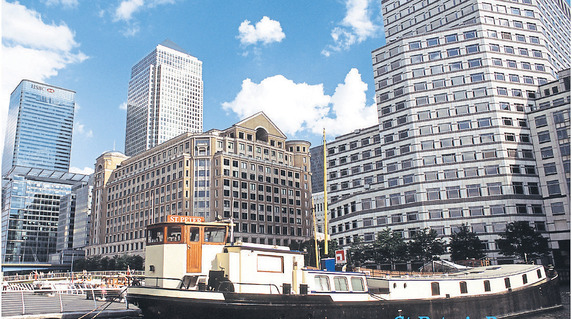 It was this challenge that occupied the thoughts and prayers of working Christians and members of St Peter's Barge as they met to hear Rico Tice explain the vision for 'Questions of Life' (www.questionsoflife.org.uk). This outreach aims to give everyone in the Wharf a chance to engage with the gospel – specifically through a week of talks arranged for 14-20 March.
Mark Greene has written: 'Changes in work and transport patterns mean the people we spend most of the time with often don't live near the church. Many of our strongest contacts are at work.' This is why opportunities like 'Questions of Life' are so vital.
Hosted by firms
This year, events will be hosted by firms including KPMG, Barclays, the Financial Conduct Authority, Shell as well as St Peter's Barge – London's only floating church. Evangelist Rico Tic, a senior minister at All Souls Langham Place, is the main speaker. He will speak on topics including 'Why bother with religion?' and 'What is reality?'
Other speakers are Christians drawn from the business and political world. They include Jeremy Anderson, chairman of Global Financial Services at KPMG, David Burrowes MP and David Gascoigne, head of Power and Utilities at KPMG. Others will share testimonies about God's work in their lives – Yvonne Edwards, a Wharf worker, whose life descended into alcoholism and rehab, will share about coming to faith in Jesus and having her life turned around.
'Questions of Life' builds on an initiative last year called 'Festival of Thought', which sought venues within Canary Wharf firms to provide lively lunchtime talks using a team from The Oxford Centre for Christian Apologetics. Following an encouraging response and the opportunities of being able to host such events inside company offices, 'Questions of Life' aims to follow on.
True and wonderful
As the mission was launched with Christians in January, Rico challenged those gathered on the Barge to truly believe the gospel of Jesus saves people from hell for heaven through the cross. He quoted Lindsay Brown from IFES saying that Christians would only be motivated in evangelism if they believed the gospel was both true and wonderful.
Rico said: 'If I open the Bible and teach it, God will speak through it. The power is in the Bible as the Spirit takes the word of God and transforms people's hearts'. He highlighted that fear of being marginalised and rejected or being so busy at work and not having time to talk to others were some of the key reasons why Christians fail to share their faith.
Rico reminded the Christians of God's grace – their identity is based on the imputed righteousness of Christ – so God is delighted with them, because he is delighted with Jesus. This should enable Christians to live from God's approval and not for God's approval. This knowledge would counteract feels of rejection and hurt that may be caused by negative responses to their invitations.
Christians were asked: 'Do you believe punishment for sin is hell?' Using a personal illustration from days playing rugby for Oxford, Rico movingly showed that a decision not to warn colleagues is a serious thing. We think more about what they will think of us now than what God will think of them on the Day of Judgment.'
Spiritually hungry
Using statistics from the website www.TakingJesus.org, Rico said that 67% of non-Christians said they liked their Christian friends and of these 20% would describe themselves as being spiritually hungry. Finishing off, he said that Christians do not often pass on the message of the gospel because 'good things become god things'. He said God sent his Son into the world that people might come to know him and so God sends his people out for the same reason. He encouraged Christians to get involved in these events and pray that their non-Christian friends come and hear the good news.