Open grave
Risen tells the story of the resurrection of Jesus Christ from an unusual yet interesting perspective: that of a Roman military tribune, Clavius (Joseph Fiennes), who investigates the disappearance of Jesus' body from his tomb, determined to establish the truth of the matter.
Calvin Peat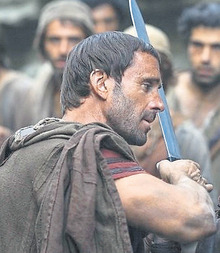 RISEN
Director Kevin Reynolds
Cert 12A 107 mins
Despite the fictional introduction of Clavius into the story, the filmmakers are very respectful of the biblical accounts and the film is mostly historically accurate. In Roman-occupied Jerusalem, it's Clavius' job to maintain order, sometimes through violence, but deep down he yearns for true peace.
Life changed by Jesus
As Clavius' investigation progresses, he's drawn to one inexorable conclusion: that a man (who claimed to be the Messiah) died, and then was alive again. He meets the disciples, and eventually the risen Yeshua (the Hebrew name for Jesus, meaning 'the Lord saves') himself (played by Cliff Curtis), changing his life dramatically. Clavius sees the difference between the ways of the world, of striving to please others, and God's kingdom ways, of forgiveness, love, and peace.
While expressing theological truth in clear, abstract ways is of great value, this film puts the focus on what it would have been like experiencing the events surrounding the death and resurrection of Jesus, on the ground.
The disciples don't have all the answers, but they do know the person of Jesus, who forgives all their sins and doubts. The phrase 'There are no enemies here' recurs, perhaps illustrating Jesus' love for his enemies, as the friend of sinners; and the film effectively conveys the joy of Jesus and his disciples.
Though some key elements which might have improved the film are missed out, there are many small moments which tie in with the details in the gospels. There is occasional violence, including a brief scene of crucifixion, graphic description of crucifixion, and dead bodies.
The UK release of Risen is 18 March. This review is from a preview screening organised by Damaris Media, who have free resources for the film available at: http://risen.damarismedia.com/