Worldwide Anglican Update Sexuality: making it worse in Africa
In the lead up to the Anglican Primates' gathering from 11–16 January, further pressure was brought to bear on African churches and nations to change their laws on sexuality.
Chris Sugden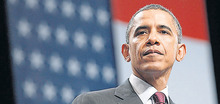 Both President Obama and Prime Minister Cameron have, from their positions of enormous power, made direct threats to African states, saying they will remove funds from their education and health budgets if the laws are not changed. The Episcopal Church (USA), the Church of Canada, the Dean of Christ Church and lobby groups have pressed for this too.