Mexico: displaced
Nine Protestant families were forcibly displaced from their village in Chiapas, Mexico on 4 January because of their religious beliefs.
Christian Solidarity Worldwide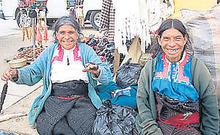 Armed village leaders, led by Village Commissar Reynaldo Jiménez Hernández and Municipal Agent Francisco Jiménez Santiz, attempted to force the victims to renounce their religious beliefs. When they refused to do so they burned their homes in Gabriel Leyva Velázquez, Margaritas Municipality, forcing them to flee.