Iraq: Myriam unchanged
An 11-year-old Iraqi refugee, whose video message of forgiveness for Islamic State (IS) went viral worldwide in December 2014, shared a new message for world leaders in December 2015.
SAT-7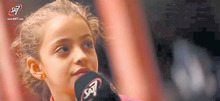 In December 2014, Christian satellite television channel SAT-7 KIDS first filmed and aired an interview with Myriam in a Christmas special from Northern Iraq. When the station then published the clip of her interview on the internet and social media, millions of viewers around the globe were inspired by her faith and forgiveness.