Anglican Update Challenging boundaries
Boundaries are a big deal. Donald Trump has proposed a 'Great Wall of America' between the US and Mexico.
Susie Leafe,

Director of Reform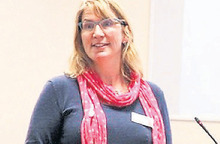 In Europe the functioning, or otherwise, of the 'Schengen Area' is the greatest challenge that the EU has faced in a while and, of course, we all anticipate that 2016 will bring a referendum on our membership of the European Union, which again will be largely focussed on the merits and demerits of freedom of movement of capital, people, goods and services across borders. We could go on.