Carey: vital connections
The Carey Conference is a conference for ministers and their wives – which makes it almost unique in the UK.
JEB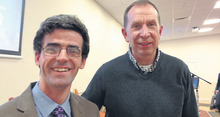 The conference met at the Hayes, Swanick in Derbyshire, from 5–7 January. The numbers were slightly down this year: this may have been because the main speaker, Mike Bullmore, is perhaps not yet a well-known name in this country. But his ministry to the men and women there was truly outstanding. Mike is the senior pastor at Crossway Community Church, Kenosha, near Chicago. He taught preaching at nearby Trinity Evangelical Divinity School, Deerfield, Illinois, but then 17 years ago felt the call of God to plant a church with the help of some Trinity students. The church now numbers 1200 and they have recently planted another. Mike is one of the behind-the-scenes 'founding fathers' of the hugely influential Gospel Coalition and has a wealth of both ability and experience that the evangelical scene in Britain would be wise to tap into.