Meet the big guys!
Historical theology is a valuable tool for deepening and enriching our understanding of the Christian faith.
Kenneth Brownell,

senior minister, East London Tabernacle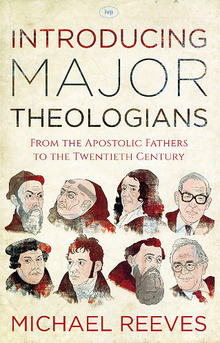 INTRODUCING MAJOR THEOLOGIANS:
From the Apostolic Fathers to the Twentieth
Century
By Michael Reeves
IVP. 335 pages. £14.99
ISBN 978 1 783 592 722
While our theology must be based on Scripture as our supreme authority and should also be conversant with the thinking and cultural context of today's world, we would be foolish to ignore what previous generations have taught. Faithful theology must be deeply informed by the church's tradition. This is not traditionalism, although that is a constant danger, but rather the way of wisdom as we learn from the best that has been left to us by our forefathers.
However, there is bad and good historical theology. Bad historical theology cherry-picks the bits from the past that we like and that confirm what we think rather than reading the older theologians in their historical context. Sadly there is far too much of that kind of historical theology among evangelicals. Good historical theology takes older writers on their own terms in their contexts and learns from them. In this book Michael Reeves offers us an excellent example of good historical theology. The book brings together two previously published works. It is not so much a chronological introduction to the history of theology, or a thematic one, as a guide to reading more than 14 of the greatest thinkers in the history of the church. Reeves begins with the Apostolic Fathers and in successive chapters examines Athanasius, Augustine, Anselm, Thomas Aquinas, Martin Luther, John Calvin, John Owen, Jonathan Edwards, Friedrich Schleiermacher, Karl Barth and J.I. Packer. The last is a bit of a surprise since, excellent theologian that he is, Packer is not quite of the same significance as the others in the broad sweep of church history. But having said that, he is a much more reliable theologian than Schleiermacher and Barth. Those two may also be a surprise to some, but they are hugely significant for contemporary theology and need to be understood, the former for understanding theological liberalism and the latter for the neo-orthodoxy that never loses its appeal to some evangelical theologians and pastors with evangelical roots.
Insightful guide
Each chapter has a short biographical introduction to the subject, a section on his thinking through the lens of one or more of his main works, a very useful section on how we can go on with the subject and begin to read his works and finally a timeline. Not everyone will be inclined to read these theologians, but with such a sure-footed and insightful guide in Michael Reeves the way is open for us to do so. Like high mountains their works may look daunting, but they are much easier to climb than many imagine. And with Athanasius, Augustine, Luther, Calvin, Owen, Edwards and Packer we may be surprised how spiritually rewarding and refreshing that is.