Syria: town saved from IS threat
Militants of Islamic State (IS) came within 3 kilometres of the Syriac Orthodox town of Sadad in western Syria, it was reported on 12 November.
World Watch Monitor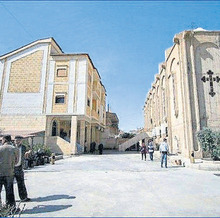 The largely Christian towns of Sadad and Haffar were under intense bombing and shelling from 1 November, forcing around 2,385 families from their homes.
Factions team up
More than 220 bombs fell on Sadad in the subsequent week, and Haffar was shelled and attacked. Faced with the prospect of another irreplaceable loss, different anti-Islamist factions teamed up to defend the town, albeit for different reasons.
Sadad's strategic location, 60 kilometres southeast of Syrian government-held Homs but close to the Damascus-Homs main highway, makes the town a prize for both IS to win and Assad to keep.
Aramaic language
It is one town where remnants of the language of Christ is still spoken. The Bible is said to refer to it as Zedad, or mountainside, in Numbers and Ezekiel. Mor Ignatius Aphrem II, head of the Syriac Orthodox Church, said that more than 500 Christian fighters, joined by pro-government fighters, travelled from across Syria to prevent the town's fall.
Since August, thousands of civilians have been displaced by a combination of IS advances and increased aerial and ground bombardment by Russian and Syrian government forces trying to stave off the militants. Out of 15,000 original residents, only hundreds are left in the town, understood to be mainly defenders.
Most of those who fled Sadad travelled to towns with sizeable Christian populations, such as Fairouzeh and Zaidal, east of Homs city.