Norway: Christian family torn apart by social services
A Christian couple in Norway became embroiled in a battle with social services in November after their five children (Eliana, Naomi, Matthew, John and Ezekiel) were removed on charges including 'Christian radicalisation and indoctrination'.
The Christian Institute / en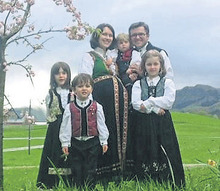 Marius Bodnariu, a Romanian citizen, and his wife Ruth, a Norwegian citizen, were former members of Philadelphia Pentecostal Church in Bucharest. They married in Romania, moved to and settled in Norway approximately ten years ago, to start and raise a family in Ruth's hometown.