The Entertainer: faith in the toyshop
Toyshop chain owner Gary Grant shared how his faith shaped not only the contents of his shop, but his whole approach to business in an interview in the late autumn.
BBC News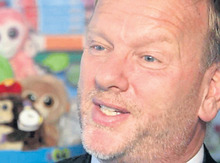 Dyslexic, Gary Grant wasn't interested in school at all, but said maths was 'easy peasy'. He failed his 11-plus exam and hence went to what he calls 'the failures' school', which he left at 16 with just one qualification – O-level maths. Now, however, despite having a finance director, he checks the weekly cash flow, signs every cheque and approves, or not, all outgoings.