Who cares?
The film is a snippet of autobiography concerning the writer Alan Bennett's bond with a homeless woman who parked her van in his driveway and stayed for 15 years.
JEB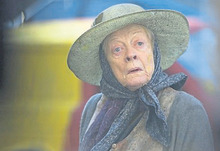 THE LADY IN THE VAN
Director Nicholas Hytner
104 minutes Cert 13
A plethora of British actors give wonderful cameo performances, but the stars are Alex Jennings as Bennett and Dame Maggie Smith as Mary, the derelict woman. The film has humour, but it is definitely not a comedy and is actually, as with much of Bennett's writing, quite cynical and destructive. At one level it recognises the nobility of human beings but nevertheless probes the issue of caring for the needy. Should Bennett care for this waif and stray or not? And if not he, then who? These are important questions for our time. Who cares for the unlovely?
Broken humanity
All institutions – including social services, the police, the church and the community – are presented as failures or worse. Humanity is broken and cannot mend itself. It is well observed and perceptive, but implies that people only care for others out of selfish motives and mostly those cared for don't want it. That is certainly true of the old lady who is mostly portrayed as rude and repulsive: 'Caring is mostly ****.' Bennett's elderly mother inhabits the background of the plot and one cannot help thinking that what we are viewing is actually an apologia for the writer's neglect of and embarrassment by her. His guilt over his mother is paralleled in Mary's life and neither have an answer. Bennett has no gospel.
Christianity gets a kicking
'Christianity', in the form of Catholicism, comes in for some heavy caricature and criticism. It is seen as inhuman, unloving, repressive and providing no solutions. Religion is fantasy which you can make up as you like if it suits you – the writer openly fabricates an 'ascension into heaven' for Mary after she dies. The only truth there is, is to be true to oneself, which for Bennett majors on his homosexuality. But what is so great about being 'true' to a cynical and jaded self anyway? And Bennett's ending is full of inconsistency. Mary dies and finds out that the incident for which she has carried great guilt throughout her life wasn't her fault at all. But one might ask of Bennett's secular worldview: 'Who says we find out the truth when we die?'
It's a dangerous, ultra self-conscious piece, beautifully crafted.