USA: gallery to church
A gallery formerly owned by a Christian couple has been converted into a church after the couple refused to host a same sex wedding at their business, it was reported in early November.
Religion Today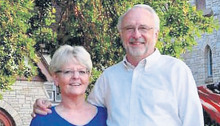 Richard and Betty Odgaard were the previous owners of Görtz Haus Gallery, a gift shop and bistro in Iowa. When a same sex couple approached them to book a wedding at the venue, the Odgaards refused, prompting a lawsuit.