Egypt: spiritually hungry
The sixth annual OneThing festival in Wadi el Natroun took place from 1–3 October with around 7,000 people attending each day.
SAT-7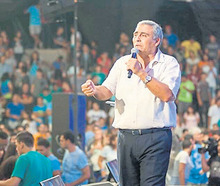 The Christian youth festival was so packed that people were 'squashed in the aisles', but that did not deter the spiritually hungry crowd!
One of the main speakers, the Revd Sameh Maurice, said that the packed and enthusiastic crowd offered 'hope that there are youth who want to continue lifting the banner of God's love', adding, 'There are people who really seek God and God will reveal himself to those who seek him diligently with all their hearts'.
Year of the Lord's favour
The event, which seeks to strengthen and encourage young Christians in their faith, is organised by Egypt's largest evangelical church, Kasr el Dobara Evangelical Church (KDEC). Inspiring Bible teaching and worship from KDEC is broadcast every week by SAT-7 via satellite TV and on its SAT-7 ARABIC Live YouTube site. The OneThing festival was broadcast in the same way, making it possible for millions across the region to share in the teaching, worship and prayer.
The theme of this year's OneThing was: 'To proclaim the year of the Lord's favour' (Isaiah 61.2), with teaching on freedom, faith, humility and healing. It was held at Beit Wadi (House of the Valley), a 130-acre site in the desert, midway between Cairo and Alexandria. The site is owned by KDEC and is used to reach out to young Egyptians through various ministries. These include a rehab centre for drug addicts and youth sports ministry.