God's word tailored for immigrants and insiders
We evangelicals love complexity. Commentaries become longer, training resources become more like degrees, and some sermons almost have footnotes.
Chris Green,

vicar of St James, Muswell Hill, and the author of The Word of his Grace: Teaching and Preaching from the Book of Acts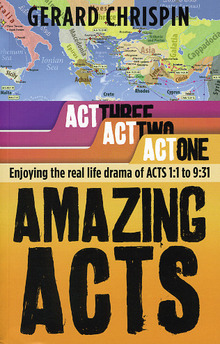 AMAZING ACTS
Enjoying the real life drama of Acts 1:1-9:31
By Gerard Chrispin
Evangelical Press / Christian Prison
Resourcing. 187 pages. £8.99
ISBN 978 1 783 970 803
What Gerard Chrispin has done is therefore extremely useful. He produces full Bible notes for individuals, or groups, or as part of a correspondence course (itself available at two levels), at an accessible level. This book is the first of three covering Acts, matching some prior studies on Mark.
Publishing for prisoners
The co-publishers are Christian Prison Resourcing, which explains everything. This series is designed to work within prisons or immigration centres. So the level has to be accessible, because it is for people who have a disproportionate chance, having left school at 16 with few or no qualifications, perhaps not even able to read. For them the website www.amazingacts.net gives free audio version of each chapter and questions, so that anyone can learn and take part in the discussions. Rich material for Bible study, including study for a qualification, in that context, has to be applauded.
Helpful and safe
Overall the theological direction is helpful and safe: the apostles are helpfully distinguished from the rest of Christians, although we are encouraged to pray for God to act. The issue of the Samaritan believers and Simon the magician are handled well.
I don't think the origin of the book is distracting: there's a powerful testimony from a man about being part of the Mark studies while being in prison, which anyone would benefit from reading. There is a scant handful of references to prison experience, but I don't think these would be a problem, as they arise naturally from the material.
I have some minor quibbles, although they seem unfair. I think Stephen's speech is less about the person of Jesus being greater than all his predecessors, and more about the location of God's work outside the land and temple. It is helpful to include the Bible passage, although the NKJV translation would not be my first choice – presumably that was for copyright reasons.
The heading over chapter ten is dire. And I would love to take a red pen to all the exclamation marks.
Easily used
This, then, is a book which could easily be of use for those of us who work in areas where there are few graduates and many non-readers. Getting the Bible open one-to-one can be tough work, but Gerard Chrispin is on our side.