ISIS begins executing captured Christians
The Syrian Observatory for Human Rights reported in early October that three Christians, who were part of a group of 200 or more held captive by Daesh (Islamic State) since February, have been executed.
Christian Solidarity Worldwide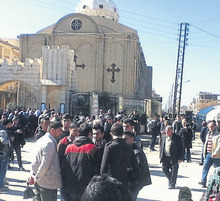 The terrorist group released a video on 8 October showing Dr Abdel-Maseeh Aniyah, Ashur Rustam Abraham and Bassam Issa Michael in orange jumpsuits. The men were ordered to confirm their names before being shot dead. In an apparently scripted moment, a Christian then pointed to the bodies on the ground and said: 'our fate is the same as these if you do not take proper procedure for our release.' Daesh have threatened to execute the remaining hostages if their ransoms are not paid.
$50,000 per hostage
The men had been held since 24 February, when Daesh abducted 253 Assyrian Christians following dawn raids on their settlements in Syria's north-eastern Hassaka province. While the group has periodically released elderly prisoners, reports indicate that 202 people remain in captivity with Daesh. According to news reports, Daesh is demanding ransoms of around $50,000 for the release of each prisoner. In March, 23 Christians were released after paying a religious tax.
Convert or pay
Syrian Christians have been targeted by jihadi militant Islamist groups since the outbreak of the civil war in 2011, with many killed or forced to flee their homes. In many cases, those who have remained, often the elderly and disabled, have been ordered to either convert to Islam or pay jizya (a religious tax).