Student give-away
Back in the May edition of en, you may remember a piece about 'Beyond Beans on Toast'. Born out of a desire to reach soon-to-be-uni-students, Festive worked with 10ofthose to create this evangelistic 'survival manual'.
Claire Povey, Festive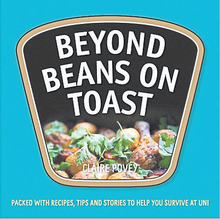 Interwoven between glossy recipes and top tips for starting university are a selection of testimonies from students who went to university and met the living Lord Jesus. These real-life stories help to explain the Good News in simple language and point the reader on to explore the claims of Christ further.