Song of Songs lessons
The Martyn Lloyd-Jones Memorial Lecture this year was given by Dr Iain Duguid at the London Theological Seminary on 6 October.
Dr Michael Gray & Dr Angharad Gray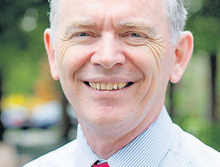 Love, sex, marriage and singleness are not easy issues on which to speak and, consequently, there has often been an absence of teaching on these important aspects of the Christian life. Dr Duguid, of Westminster Theological Seminary, Philadelphia, USA, delivered a powerful and compelling lecture and offered a refreshingly positive perspective on the subject, which, while recognising the importance of the prescriptive instructions of Scripture, balanced this with the often ignored passion and romance of the Song of Songs.