New Frontiers in Edenbridge
A group of 80 gathered for the first service of Grace Community Church Edenbridge on 26 September.
Ruth Woodcraft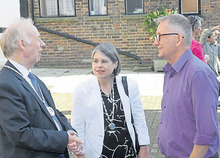 Lots of encouragement was given to the group of Christians who are helping plant the church from surrounding New Frontiers (NF) churches, part of the Regions Beyond group within the wider network of NF churches. People have moved into the area to become part of the community and have started running a Saturday club for children which had, at the launch of the church, already seen some new friendships formed through the Laser Light club meeting in the local Leisure Centre.