Anglican Update Effective or defective?
Almost 450 church leaders met together for the 2015 ReNew Conference at Chesford Grange – the third conference that Anglican Mission in England (AMiE), Church Society, and Reform had organised together with the purpose of encouraging church leaders to pioneer, establish, and secure healthy local Anglican churches throughout England.
David Baker,

rector of the churches of East Dean with Friston and Jevington, East Sussex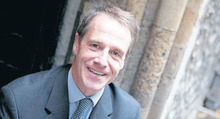 Although I had hoped to attend, I was not able to, so am grateful to Brian O'Donoghue of St Helen's Bishopsgate for most of the following report. In his chairman's address, William Taylor of St Helen's outlined the history, necessity, and strategy of ReNew and introduced this year's theme - 'Shoulder to Shoulder; partnering together in mission and ministry'. He stressed the need for interdependence – in prayer, people, and finance.