Special needs?
Chaos! Sleeplessness! Fear! Joy! These words could be used by any parent to describe their experience of parenting. But how do you survive when you find yourself in the unexpected category of 'special needs' parent?
Sophie Killingley,

crafter and cartoonist, Send Evangelical Church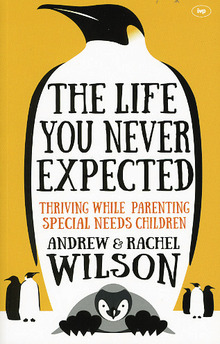 THE LIFE YOU NEVER EXPECTED
Thriving While Parenting Special Needs
Children.
By Andrew & Rachel Wilson
IVP. 152 pages. £8.99
ISBN 978 1 783 593 521
This book details the journey of Andrew and Rachel Wilson when they found themselves parenting two autistic children. But it's so much more! I think they put it best by describing it as 'a book about spiritually surviving and thriving when something goes horribly wrong'. So, whether parenting a special needs child or not, this book has something vital to say to us all.
Five cycles
The book is modelled on Psalm 130, and is divided into sections: Weeping; Worshipping; Waiting; Witnessing. This is repeated in five cycles, beautifully acknowledging the ongoing struggle and nature of life.
The style is wonderfully raw and honest. They lay out bravely the mess they feel as they grapple with the minefield of autism, put aside the dreams of raising 'regular' children, attend multiple hospital appointments and therapy sessions, and look for God.
They tackle our need to lament properly in a culture that is afraid of sadness, and the importance of leaving our unresolved 'why's' in God's hands rather than rush incorrectly to second-guess our Maker's mysterious ways. They dive into the fact that most of us have in mind rather more glamourous ways in which to serve God than the mundane and often thankless mission field of caring for our own kids. They discover the difficult but vital need to worship God by fighting for joy and a thankful spirit in a world of entitlement. And the need to pray to God our Father and to rediscover the depths of love he has for us, his children, as we seek to care for and love our own.
Pain and pleasure
Although the subject matter is at times painful, it's also humorously approached! Having an autistic child myself, I know life is borderline hysterical at times and this is clearly shown in the loving and hilarious anecdotes they share.
A helpful resource section at the back directs the reader to other books to better understand autism and the place where autism and faith collide.
Overall it is a well written, biblically thought-through book, looking at the messy reality of life, but having a theologically sound core. I highly recommend it.