Doctrine on stage
In a world where the portrayal of Christians is routinely derogatory and often inaccurate, it is refreshing to come across a production that takes seriously a major doctrine of Christianity. The Christians transferred to London after a successful stint at the Edinburgh Festival.
Dr Chris Wigram,

International Director, European Christian Mission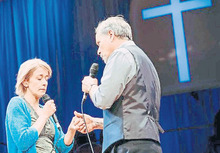 THE CHRISTIANS:
The Gate Theatre, Notting Hill Gate
Director Christopher Haydon. 80mins.