A band of brothers
Richard Underwood reflects on the results of a well-being survey of serving pastors
Richard Underwood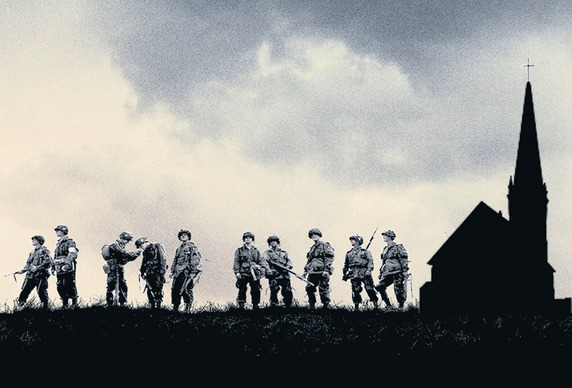 One of my favourite soundtracks comes from Band of Brothers.
This is an Emmy and Golden Globe-winning TV mini-series about the exploits of Easy Company of the US 101st Airborne Division in Europe during WW2. The Band of Brothers title, of course, originates with Shakespeare's Henry V's stirring speech before the battle of Agincourt in 1415.
The FIEC Pastors' Network consists of 475 men from independent churches who connect with one another for support and encouragement. A well-being survey conducted in the summer of 2014 encouraged pastors to assess their ministry as well as their life away from church leadership, particularly in terms of spiritual formation, self-care and family life. Unsurprisingly, while many are encouraged, others feel isolated, under-supported and are struggling with their prayer life.
It was a salutatory lesson to me that a number of men confessed that they couldn't complete the survey because they found the exercise too painful.
Sample of findings …
• more than 50% of pastors lack a friend to help them recharge
• more than half of families question the pressures put on pastors, but where is the support for families who feel like this if pastors are so isolated?
• only a third of pastors feel they have been trained well for the task of ministry.
Many of the results are very positive – like the proportion of pastors reporting that the churches they serve are growing. However, my purpose here is not to drill down into the answers, but to ask two questions: Why does this matter? And what should we do about it?
Why pastors matter
If churches are at the heart of God's purposes for the world, then pastors are at the heart of the spiritual health and vitality of churches. It's unlikely that a pastor who is tired, disappointed and cynical is going to be much of an advertisement for the gospel, or an inspiration to God's people.
When we listen to our pastor preach on Sundays, we tend to assume that he has his life together and his family sorted. Most of us don't understand what he really thinks, feels or experiences week by week. This is a gospel issue because, if we're going to make progress in turning the tide in our nation, we need vibrant churches led, loved and taught by vibrant men.
So, what's the answer? It brings me back to the band of brothers motif. I've always loved that phrase as a way of describing how pastors should relate to one another. Not as competitors, but as partners and dearly loved brothers. It seems to me that we can learn at least three lessons from the Band of Brothers.
Realisation
Whatever took place on the training ground back home, it didn't take the members of Easy Company long to work out that life in Europe was different; suddenly they were at war. And so are we.
The battle for the soul of our nation feels intense. It's as if Satan feels that he's in the ascendency right now. The Apostle Paul uses some pretty combative language to describe Christian ministry – including guarding, wrestling and fighting. But here's the point – pastors are in this battle together. They're not just 'doing ministry' or 'leading churches' or 'preaching the Bible'. They are on the front line of a war zone. The context of ministry is spiritual warfare; people are getting hurt. That reality should shape the way we relate to one another.
Responsibility
When they finally feel able to talk about the war, veterans often say how much they miss it. They don't mean the privations, the fear or the rations; they mean the depth of companionship on the front line. The sense of comradeship was palpable; they simply had to depend on the men next to them to survive. In a world that yearns for deep and satisfying relationships, where do we find that kind of mutual responsibility and dependency in Christian ministry? Pastors ought to find it in each other.
I love the lists Paul often gives at the end of his letters – Romans 16 is a classic. What impresses me is not simply his memory for names, but the evident joy that comes to mind as he remembers individuals. Some were 'outstanding', others were 'dear friends' and yet others 'risked their lives' for him.
Pastors need to develop that kind of mutual responsibility that drives them to put themselves out for one another – to send that text, make that call, pay that visit to do their peers good for Jesus's sake.
Recreation
War does funny things to people, I'm told. In the midst of the muck, the bullets and the mayhem, the band of brothers had fun.
In God's good world, we're meant to have fun – to find pleasure in each other's company, to laugh together and to see the funny side of life and ministry. But that takes time and trust. Some pastors are so task-oriented that they're in danger of losing the joy of being human.
We would like the FIEC Pastors' Network to help in promoting this band of brothers mentality. How can it do this? Not quickly, I fear. But slowly and surely, through changing the culture in two directions.
Changing Culture
Firstly, we need to change the culture in our churches. Paul reminds us that our elders are worthy of double honour (1 Timothy 5.17). Maybe he's talking about money, but it must go beyond that. The writer to the Hebrews urges his friends – and us – to have confidence in our leaders and submit to their authority (Hebrews 13.17). We don't serve our leaders well by putting them on a pedestal, but neither do we promote their long-term health and well-being – or ours – by feeding them a daily diet of conflict and criticism. Many of our churches would be healthier and happier places if we could honour our pastors through an ethos of grace and encouragement.
Secondly, we need to change the culture amongst pastors themselves. They need to take their well-being – physical, emotional and spiritual – seriously. Pastors need time to reflect on what they do. I don't just mean a quick review of how Sunday went, but an in-depth prayerful consideration of how the ministry as a whole is developing. Where are the areas of encouragement? Where are the blockages in the system? Where do shortcomings need to be addressed? They can't undertake this on their own, but they need to take the initiative.
They also need time to build relationships. Although they are surrounded by people, many pastors feel lonely and isolated. Isolation becomes the breeding-ground for all kinds of complexes and neuroses. It's like the dark – it makes everything else feel worse. Pastors need their peers to be the band of brothers who will understand them, pray for and with them and hold them to account.
Day conferences
It's for this reason that the FIEC Pastors' Network is growing its programme of day conferences to give as many pastors in the FIEC family as possible the opportunity to meet, to talk, to share and to pray. Prayer will be the focus in 2016. Not as a way of making pastors feel guilty, but in terms of enjoying God and pursuing his glory.
When I was leading a church as its pastor, I knew that to effect significant change I had to win the hearts and minds of the back row. If they were on my side, I was home and dry. Even now, I hear murmurings from the back row: Aren't you making pastors a class apart? Pastors aren't special; they're flesh and blood just like the rest of us. They don't have a more important role; they just have a strategically significant one.
Which brings us back to where we started. If churches are at the heart of God's purposes for the world, then pastors are at the heart of the spiritual health and vitality of churches. That's why we need to get behind our band of brothers – with our wallets, our diaries and our hearts.
Richard Underwood is Pastoral Ministries Director for the Fellowship of Independent Evangelical Churches (FIEC).