THE CHURCH THAT ESCAPED
When we read the news about the Middle East there is not much to rejoice over.
en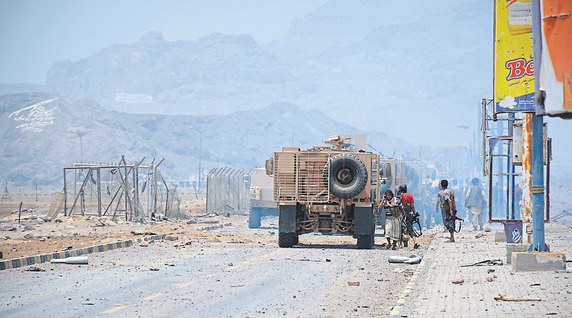 There are wars and rumours of wars and many displaced people. An example of this situation is the country of Yemen.
Yemen is the poorest country in the Middle East, with a population of around 24.5 million. However, it has also been the home for many Somali and Ethiopian refugees over the last 20 years. Since March 2015 there has been prolonged fighting and bombing in the country. The political situation is complicated as Houthi rebels fight pro-government forces. Furthermore, a Saudi-led coalition which supports the ousted president is regularly bombing key targets in the country.
One of these has been the city of Aden, due to its location as a port and being the main city in the south. Buildings and homes have been devastated and many civilians have lost their lives in the fighting. There is no electricity, no water, no fuel – and no food, as nothing is grown locally and the humidity and temperature is unbearable. The situation is desperate… but here is a story from earlier this year of God's amazing rescue.
Jabi's story
Jabi came to Yemen as a refugee during the Ethiopian/Eritrean war in the 1990s. He served as a member of the Ethiopian navy. The ship he was on ended up being scuppered along the Yemeni coastline. The Yemeni government in their kindness took these naval seamen and allowed them to be refugees in the country. The United Nations High Commission of Refugees had a camp in the foothills around Taiz where many of the seamen started their new lives in Yemen. Jabi moved to Aden to look for work after being in the camp for some time. While in Aden he became very unwell with typhoid and malaria and was close to death. Two of his friends shared with him about Jesus but he just ridiculed them and laughed at them. However, unknown to Jabi, his sister in Ethiopia was praying for his conversion. As Jabi lay there on his sick bed, and, as his friends and sister prayed, the Lord did an amazing thing and healed him completely. This hard-hearted seaman realised the need of a Saviour and was completely transformed.
When the war came
Jabi served the Lord in Aden for many years; he worked during the day for a local Yemeni family, but he also became an elder of the Ethiopian fellowship in Aden, where a small group of believers met. Here, Jabi met his wife and they went on to have two daughters. However, with the onset of the war, what were Jabi and his family going to do?
Aden was heavily targeted in March and April with regular bombing raids. The area where Jabi and his family were living was particularly targeted due to its proximity to the airport. What were they to do? Jabi collected all the fellowship together in his house, around 35 people including children.
However, the situation was getting worse, as rebels and soldiers knocked on the doors telling people not to move and food and water was scarce. So Jabi felt they had to move from their home. He took charge and found various places for the fellowship to hide. For several nights they stayed in underground caves and a friend offered a flat where they could stay. Jabi and the fellowship kept moving as the Houthi rebels advanced and as they also tried to avoid the bombing from the Saudis. One night Jabi's wife was fearful that her husband had died, as he returned late after trying to organise food and a taxi for them to move to a new place. Bodies littered the road as they travelled across the city. They hid wherever they could.
Friends were praying
Communication was very difficult, phones were often not working. However, friends from all over the world started praying for this little group of believers, that the Lord would provide a way for the fellowship to leave. People from other countries had already left Yemen by this time; however, there seemed to be no apparent rescue for these dear ones. As Jabi was praying, the Lord spoke to him through these words in Isaiah 43: 'But now, this is what the Lord says – he who created you, O Jacob, he who formed you, O Israel: 'Do not fear, for I have redeemed you; I have summoned you by name; you are mine. When you pass through the waters, I will be with you; and when you pass through the rivers, they will not sweep over you. When you walk through the fire, you will not be burned; the flames will not set you ablaze. For I am the LORD your God, the Holy One of Israel, your Saviour.'
The Lord would provide
As he prayed for his little flock, Jabi felt that the Lord would provide a way. One day, Jabi received a phonecall from the authorities in Ethiopia saying that they were going to provide a boat for their rescue. Praise the Lord, what a mighty deliverer. So Jabi prepared the fellowship. He also had been in contact with other Ethiopians in the city so at the end of May, 115 Ethiopians set sail for Djibouti.
As Jabi got on the ship, he was nervous, but he said to the Lord: 'We are in your hands'. Jabi had managed to let his sister and other friends know they were leaving. So people prayed and Jabi and the boat of Ethiopians navigated the dangerous waters across to Djibouti.
Faithful God
As they arrived in Djibouti after a long night on the ship and basked in the warmth of peace, they met with further officials who told them that the Ethiopian authorities had organised a chartered flight back to Ethiopia that same evening! Jabi managed to call his sister to tell her the good news. Her prayers, and many prayers from believers around the world, had now been answered: Jabi and the group were coming home. Around 2.30 am, this motley, bedraggled, exhausted, shell-shocked group arrived at Addis Ababa airport. Many tears were shed during the reunion of family and friends. The Lord had done it, He had rescued his people in an amazing way. He is faithful.