Sudan: powers restored
On 31 August, the Khartoum Administrative Court restored administrative powers to the official lands and buildings committee of the Sudan Evangelical Presbyterian Church (SEPC) denomination, chaired by Rafat Obid.
Christian Solidarity Worldwide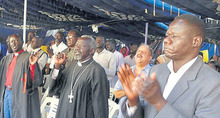 The court's decision overturns a March 2013 order made by the Ministry of Endowments and Religion, the body that governs religious affairs in Sudan, to grant an illegitimate church committee the power to administrate on behalf of the church. The illegitimate committee was subsequently involved in the contentious sale of church property to local businessmen.