World Cup – give it a try?
Paddy Patterson invites us to make the most of the opportunities that the Rugby World Cup offers
Neal (Paddy) Patterson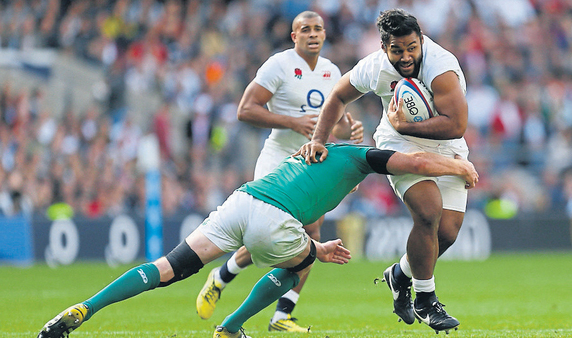 This next few weeks are a great opportunity to reach anyone in Britain with a sporting bent now that the Rugby World Cup has arrived on our shores.
The tournament began on 18 September and continues right through until the final at Twickenham on 31 October. It means that England is hosting the third biggest sports tournament in the world after the Olympics and football's World Cup and that players and fans from across the globe are right on our doorstep for the next few weeks.
I love playing, watching and coaching rugby and I believe the church should use any sport as an opportunity to communicate the gospel to the unreached. My involvement in rugby gives me friendships with non-Christians. Rugby is a genuinely friendly game, so it's great for evangelism.
Instant community
There is an instant community in rugby and, although you might knock each other around on the pitch, by the end of the game everyone is on speaking terms. I have been able to have some great conversations about the gospel with fellow players and coaches after a match.
These days I play touch rugby once a week and for the past year I have been coaching a local Under 10s' team. In all I do with the sport I try to live out Jesus and make sure I am prepared to give an answer to any questions people might have.
Recently, I've been appointed as Honorary Secretary of England Colleges RFU (Rugby Football Union). It's a voluntary administrative role but one which I hope will continue to open doors in the world of rugby and allow me to speak to people about Jesus. After all, why else would an Irishman volunteer with England Rugby?!
The majority who play rugby don't go to church and I believe the church needs to go to them. So I want to encourage everyone to try and use the World Cup evangelistically.
Building bridges
It would be great if churches and individuals could work together and get alongside local rugby clubs during the World Cup to see if they can build bridges with their communities. Perhaps your local rugby club is showing the matches on a big screen – could the church offer to run a kids' club alongside it? Or how about a sports quiz?
Christians in Sport has produced a Rugby World Cup Sports Quiz package with everything you need to put on an event. You don't even have to book a speaker, they videoed Rico Tice for you!
Christian players
Of course sometimes a speaker can draw the crowd. Back in March my own church, Knighton Free in Leicester, put on an evening with Brad Thorn. Brad won the Rugby World Cup with the All Blacks in 2011, but he is also very upfront about what his faith means to him. The church used a suite at the Leicester Tigers' stadium for the evening and it was a great opportunity to share the gospel.
I was able to invite all the parents of the children I coach and some came along to hear from Brad. It would be great to see other churches working together to see if they can use this opportunity of the World Cup to do something similar.
It doesn't have to be an evening with a speaker, but perhaps you could host an introduction to touch rugby, or even engage with local schools?
I will be speaking at two events at local churches in England between now and the end of the tournament. Both Christchurch Market Harborough and St Paul's Church in St Albans are planning to host a Rugby World Cup Sports Quiz.
Resources
But there are a number of other great resources available to Christians who are hoping to use the tournament to share Christ. 10ofThose has produced a tract for the Rugby World Cup called World Cup Glory by Roger Carswell, while TELit@OPAL have updated the cover of their popular resource The Crucial Conversion.
You can find a whole host of resources together in one place at http://gameofliferesource.co.uk/ which can help your church to plan a rugby-themed event.
Here you can order copies of Luke's Gospel and the book of Acts together with a reading plan, as well as the DVD resource which includes the Christian origins of Rugby Union and evangelistic messages by Rico Tice and Roy Crowne. There are also interviews with professional rugby players including Euan Murray of Scotland, Ruan Pienaar of South Africa and Billy Vunipola of England, who are all Christians. They answer a number of questions ranging from the importance of prayer to 'Is Jesus your captain?'.
As I play and coach rugby around my home town of Leicester I aim to show by my playing and my stance on certain issues that I am different. There are two scriptures which have always helped me in this regard.
The first is the Boys' Brigade verse: 'Which hope we have as an anchor of the soul both sure and steadfast' (Hebrews 6.19). Christ holds me, not the other way round. He does not leave me, abandon me or toss me away. He anchors me in him. I am held sure and steadfast. My life experience with him tells me that.
The second is the call to evangelism from Romans 10.14-15: 'How then can they call on the one they have not believed in? And how can they believe in the one of whom they have not heard? And how can they hear without someone preaching to them? And how can they preach unless they are sent? As it is written, "How beautiful are the feet of those who bring good news!"'
Across the country
Please pray that God would use the tournament to reach people with the good news of the gospel in September and October.
Even though England is hosting it, there are also games in Wales, with the matches taking place from as far north as Newcastle to as far south as Exeter and Brighton. What could your church do?
For a full list of the venues head to www.rugbyworldcup.com
How you can get involved:
Pray – this is key to the whole mission!
Host a rugby festival
Show the games (you will need a TV Licence)
Have a service at your local rugby club
Host a touch rugby evening (this is a mixed version of the game for all ages)
Host guest events and perhaps invite a speaker from Christians in Sport www.christiansinsport.org.uk
Work with other churches to train together for evangelism
Online resources
www.telitquick.org/sports.php the Crucial Conversion.
www.ourdailybread.org/rugby2015/ the Game Plan with Pierre Spies & Brad Thorn
www.10ofthose.com/products/17977/world-cup-glory-tract/ By Roger Carswell
www.scriptureunion.org.uk/3626825.id These are also some school resources.
Neal Patterson (Paddy to his friends) is a solicitor with FIEC Practical Services which provides local congregations with legal advice and practical support. He attends Knighton Free Church in Leicester and is a huge rugby fan, coaching the sport and playing in his spare time.