Australia: boats, drownings and refugee policy
While Europe is facing an immigration crisis, with unprecedented numbers of refugees being shipped by people smugglers on rickety boats across the Mediterranean – with many drowning – Australia is at the opposite end of the curve, having stemmed the flow of boat people in the last two years. However, the debate rages on around issues of ethics.
Peter Riddell,

Vice Principal (Academic) at the Melbourne School of Theology, and is a senior fellow of Kairos Journal.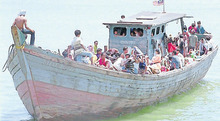 The 15 years since the turn of the millennium have seen the refugee pendulum swing wildly. In 2000, the Conservative Coalition Government led by Prime Minister John Howard faced increasing numbers of refugee boats reaching Australia's shores without government approval.
Pacific solution
There was widespread concern in the Australian community for several reasons. First, such boat arrivals attracted much opposition in the community at large. Second, failure to address this phenomenon allowed people smuggling operations, often involving criminal networks, to flourish. Third, the increase in boat arrivals was accompanied by many drownings resulting from unseaworthy vessels sinking and taking their human cargo with them. In the year 2000, around 512 refugees were drowned at sea in such circumstances. The following year, a further 356 were lost in similarly tragic circumstances.
In the face of this crisis, the Australian Gov-ernment, under John Howard, implemented what became known as the Pacific Solution. Newly-arriving refugees were held in detention in several Pacific Islands rather than being settled on the Australian mainland. By 2003 the Pacific Solution had achieved its goals of stopping the flow of boats, disrupting the people smuggling operations, and preventing the refugee losses at sea. However, this came at some cost in support from Christians, with most churches critical of government policy on ethical grounds.
Policy abolished
The 2007 electoral victory of the Labor Party under Prime Minister Kevin Rudd was quickly followed by the new government's abolition of the Pacific Solution. Within a matter of months, people smugglers resurfaced and the refugee boats began reappearing in Australian waters.
Inevitably, this brought with it further cases of unseaworthy vessels sinking, with considerable loss of life. During the Labor Government's six years in power, from 2007–13, over 1000 refugees were lost at sea in this manner. Statistics conceal many human stories of tragedy. For example, Mr Ayad Al Kazami, his wife and their two daughters, Hiba and Huba, were all drowned when their boat foundered in 2009.
The resurgence of refugee boats during the tenure of the Labour Government triggered huge debate in Australia. Polls consistently showed widespread community concern with what was perceived to be the government's loss of control of Australia's borders. At the same time refugee advocacy groups, and diverse churches, vigorously argued the case for liberal asylum policies.
Go back to where you came from
It was during the Labor years of 2007–13 that the hugely successful documentary series 'Go Back To Where You Came From' was conceived, filmed and broadcast by Cordell Jigsaw Productions. Seasons 1 and 2 were shown on Australian television in 2011 and 2012, attracting huge ratings as well as considerable interest from overseas. The programme focuses upon a group of ordinary Australians who have differing views on refugees and who are placed in real-life situations resembling the challenges faced by refugees in their journeys to Australia, in locations as diverse as Kenya, the Democratic Republic of the Congo, Iraq, Somalia, Afghanistan and Burma.
When the current Conservative Coalition Government under Prime Minister Tony Abbott was elected in late 2013, a first task was to implement their motto – to 'stop the boats'. They have succeeded in doing so by resurrecting a slightly revised version of the earlier Pacific Solution. So today, the drownings are no more, the boats have stopped coming into Australian waters and people smugglers have taken their dreadful trade elsewhere.
However the ethical debate rages on. A new season of 'Go Back To Where You Came From' is being aired on Australian television at the time of writing, feeding passionate views on both sides of the debate.
Australians watch the current refugee boat crisis in the Mediterranean, recalling a similar crisis closer to home only two years ago. This crisis may well reappear in Australia, and it is likely to remain a challenge for Western countries far into the future. The churches have an important role to play in calling for a balance between compassion and realism.