GRACE WHERE EAST MEETS WEST
Greenwich, London SE10, is where East meets West at the world-famous meridian.
James Squire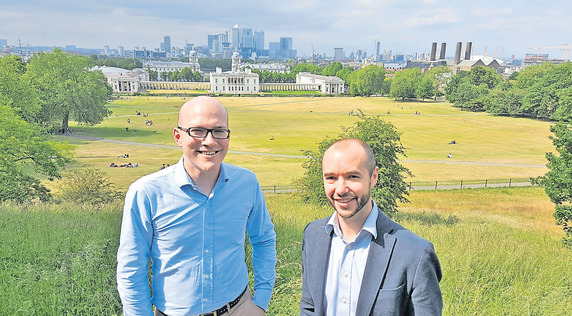 Every day couples from around the globe make their way to the observatory in Royal Greenwich Park to be photographed holding hands across the iconic line.
Partnership church plant
This September, Greenwich is going to be the meeting place of a different kind of partnership: a new church plant called Grace Church Greenwich, which represents the coming together of two other London churches.
St Peter's Barge, a floating church started in 2003 to reach out to workers and locals around Canary Wharf, is partnering with St Helen's Bishopsgate to form this new fellowship. Since its beginning, the church on the Barge has had a number of people from around Greenwich who travel across the river to church, and so it has been a natural area to consider planting into, but the numbers have not been sufficient to start anything. In partnership with St Helen's, however, the two churches are able to combine forces and give it a go. As the Barge's senior minister, Marcus Nodder comments: 'How do you plant churches if you are a small church like the Barge? You take to heart the biblical maxim that 'two are better than one' (Ecclesiastes 4.9) and team up with another church to pool your resources!'
Original idea
One of the two new ministers, Andrew Latimer, explains how the idea came about: 'We at the Barge have had a heart for Greenwich and have been meeting and praying in homes around the area for a while, and so it was a wonderful answer to prayer when the possibility of a partnership came up. Jesus sent his followers off in pairs, so I've been convinced for a while about the need for a partner in crime, and was therefore thrilled when the prospect arose of joining with Andrew Sach from St Helen's to make this vision a reality. Not only are we friends, but he brings lots of gifts and experience which will be a real help.'
Privilege
William Taylor, rector of St Helen's, is convinced that this is a model which should be multiplied elsewhere: 'Both the gospel itself and the pressing gospel need in London demand that churches work in partnership for the advance of gospel ministry. It is a privilege to be sharing with St Peter's Barge in this initiative for Greenwich.'
The developments around Greenwich peninsula are going to swell the local population by more than 40,000 over the next few years and so there is a great need for new churches.
Other churches
Stu Gibbs, the minister of Emmanuel, a New Frontiers church in the area, comments: 'Our prayer is for hundreds more churches that preach the gospel faithfully and fruitfully, so it was exciting to hear about this new church and a privilege to be able to offer some support and encouragement.'
Jonathan Gravil, pastor of Greenwich Baptist Church, Devonshire Drive, adds that the leadership team has been getting it right by meeting with local churches and keeping them informed as plans develop. 'Our common goal is to build the kingdom of God and see it increase. "One man sows and another reaps"( John 4.37). To God be the glory'.
This kind of partnership model is certainly not new, but it does seem to be happening with greater regularity as regional gospel partnerships grow in this country.
Earlier this year there was an example of something similar in a rural context, as three FIEC churches in different Wiltshire towns – Calne, Swindon and Chippenham – worked together to plant Emmanuel, Marlborough in April. God willing, we will see many more planting partnerships like this in the years to come.
For further information see: http://www.gracechurchgreenwich.org.uk