Disabled protest against assisted suicide Bill
On 14 July, disabled people descended on Westminster in droves to lobby MPs on Rob Marris's Assisted Dying (no 2) Bill.
The Christian Institute / Christian Medical Fellowship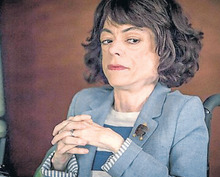 Marris seeks to give adults who are terminally ill and mentally competent the 'right' to have assistance to kill themselves using lethal drugs on the say-so of two doctors and one High Court judge. The Bill is due to have its second reading on 11 September.
Making suicide acceptable
Disabled stand-up comedian and actress Liz Carr addressed the gathering and was introduced by former Paralympian Baroness Tanni Grey-Thompson. They later visited 10 Downing Street to hand a letter to the Prime Minister.
Carr said the Marris Bill is 'about making suicide socially acceptable when it is actually something we should be trying to prevent'.
She added: 'I am terrified by this Bill. I am terrified because as a disabled person I have experienced first-hand how poorly our society values disabled people. It's the same with elderly people. I'm always being told, "If I was like you I'd kill myself." "If I was like you I'd want to die." There are people who sincerely believe that people like me are better off dead. But I don't want to die. And to talk about choice when so many vulnerable and disabled people do not have a choice about basic care, housing and support is to put us in a very dangerous position indeed.'
The British Medical Association has warned that 'there is no way to guarantee the absence of coercion in the context of assisted suicide'. The actress concluded by appealing for people to oppose Rob Marris' Bill when it is debated in the House of Commons in September.