Syria: pray for Christians
Aleppo was under severe bombardment in early July – the city appeared to be on the brink of falling as the situation rapidly deteriorated. On 15 June, 150 people were injured in fighting, while ten people were killed, most of them children.
Barnabas Fund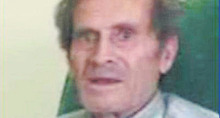 Two of Aleppo's large minority of Armenian Christians were killed in a mortar explosion on 20 June. One of the men, a visiting pastor, had arrived from Armenia only two days earlier.