Latvia: battling the sex trade
Freedom 61 is a Christian organisation based in Latvia's capital city, Riga, and is an initiative of Youth With A Mission (YWAM).
Ruth Firth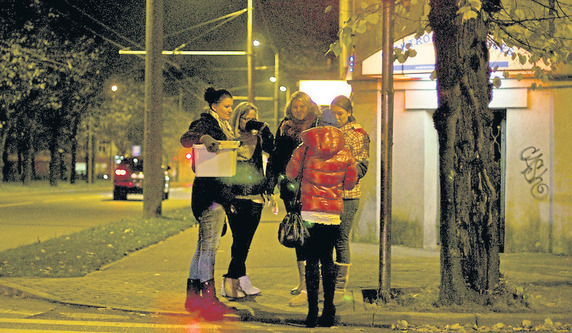 Taking its name from Isaiah 61.1, Freedom 61's mission is to proclaim freedom to victims of human trafficking, freedom to men who are buying women for sex, and also to protect the freedom of those who are at risk of being trafficked.
Former policewoman
It is almost five years since Freedom 61 began work in Riga. Heading the ministry is Lysette Klop, a former policewoman from the Netherlands.
Lysette explains how she became involved: 'I was working as a policewoman and I arrested a woman who worked in prostitution. This woman told me her life story, how she came to be working as a prostitute. As I left her at the police station and went back out on the street, I prayed that God would give me opportunities to really help others like this woman. I simply didn't want to arrest them'.
Six months later, Lysette left her job and went to Bible College. As part of her training she did outreach in Ukraine. Seeing firsthand the hopelessness of life in rural areas showed her how easy it was for young people to become victims of human trafficking as they seek a better life. When YWAM suggested that Lysette begin a ministry in Riga, it seemed an obvious choice. Today there are six full-time workers and a larger team of volunteers who are involved in Freedom 61.
There are two main aspects to the ministry, one of which is prevention. The team give presentations in schools, universities and orphanages throughout Latvia, raising awareness of the problem of human trafficking and informing vulnerable girls of the dangers.
Outreach to sex tourists
Another approach is to address the demand by reaching out to sex tourists in the Old Town area of Riga. Sadly, Riga has become a popular destination for sex tourism, with many men coming to the city from the UK, Ireland and Holland for stag parties, as well as from Scandinavia, where it is illegal to pay for sex.
This outreach is in the early stages, as materials are still being prepared, but a small team of Christian men has already gone out twice on Friday evenings, seeking to talk with and pray for those they encounter who are involved in either promoting the sex industry, or who are in Riga as sex tourists.
Malcolm Firth, a missionary from the UK, shares some of his experiences on one of these evenings: 'We met a young man giving out cards to a sex club in the centre. He had just finished school that day (he is 19) and when we asked him why he was doing this he said it was all about the money – he could earn 1,000 euros a month doing this. We asked if we could pray with him and he agreed. I gave him a card from the church.
The stag party
'There was a group from South Wales on a stag party. One of the group pointed out the groom and I asked him if he was enjoying his time in Riga. He said he wasn't – he just wanted to be home with his girlfriend. His friends had taken him to a stripper the night before and he hadn't enjoyed that. I felt sorry for him. We later prayed for him and his friends.'
Primary focus
The primary focus of the work is to reach out directly to women working in the sex trade. Three times a week the team runs a free café in the area where many prostitutes work. The café offers tasty food in a welcoming atmosphere. The aim is to build relationships and gain trust, and to offer these women the opportunity to leave prostitution. This is often discouraging work and the team frequently see women make some progress towards starting a new life, only to fall back again. Nearly all the women are addicted to alcohol or drugs and quite a number well known to the team have died recently due to overdosing.
Making the break
To help women truly make a break with their past, in April of this year Freedom 61 opened a transition centre. This is a newly renovated house away from Riga, offering women a place to live, to receive help in dealing with their past, then teaching them how to build a new life. While there are other rehab centres in Latvia, none of them are just for women, or focus specifically on recovering from the traumas of sexual exploitation. Pray that women in contact with Freedom 61 would have the courage and strength to leave prostitution and take up the offer of a new beginning.
You can read more about the work of Freedom 61 on their website at: www.freedom61.me