London: global warming party
On Monday 15 June more than 120 people gathered at Bankside Space in Southwark, London – which will be home to The Globe Church – to hear about this new venture.
FIEC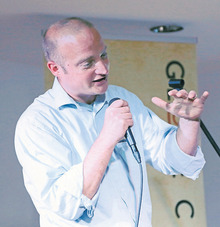 The Globe Church is being planted in an area of art galleries and entertainment venues with theatres, restaurants and hotels on its doorstep. It's also home to tens of thousands of people who live in Lambeth and Southwark. The new church is a joint initiative between several FIEC churches in London and the capital's Co-Mission network of evangelical churches.