Bury: light in the north
On Saturday 27 June the church at Radcliffe Road Baptist Church (RRBC) met with invited friends from other churches to give thanks for Geoff and Maggie King's 30 years of ministry in Bury, Greater Manchester.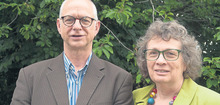 In 1985 Geoff and Maggie left Derby Road Grace Baptist Church, Watford, to re-plant a small and fading work in Bury. Along with David and Laura Higham from Wigan, Geoff and Maggie were supported in this work by their sending churches and by the Grace Baptist Mission.