Curl up and dye?
Subject: Liz Lewin, a hairdresser from Leeds who is married with one child.
Age range: 50-60.
Interests: work, church, walking and friends.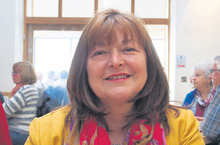 RJL: How did you become a Christian?
Liz: I had left home and was living alone. My business as a mobile hairdresser took me to visit wealthy clients in big houses – I thought I had made it! I started asking meaning of life questions. I was visited by Jehovah's Witnesses and talked to them, but I had a problem with their views on blood transfusions. After I left home my parents had become Christians and when I had to have an operation they were praying for me.