I'm in sales
Subject: Matt. Lollar is married with two children and lives in Sheffield where he is a Sales Manager for a computer services company.
Age range: 20–30 years.
Interests: Coaches American football; power lifting; photography.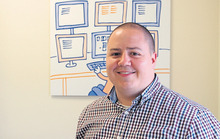 RJL: What is your family background?
Matt.: My father is a Southern Baptist pastor who is mostly involved in church planting. I grew up in small churches in Florida.