Nepal: shaken to the core
'We are expecting a massive earthquake someday.'
Paul Barnes

India Link Ministries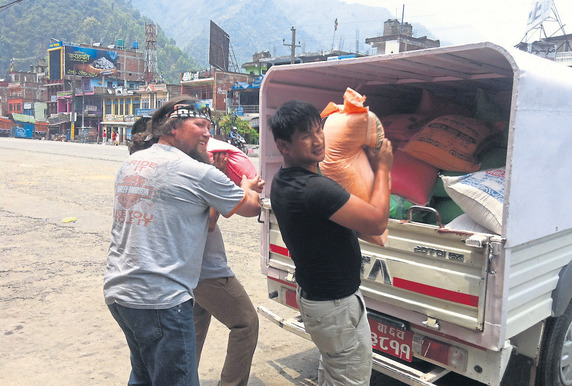 A Christian leader told me this when I visited Kathmandu a couple of years ago. Nobody knew when, but they knew it was coming: the seismologists predicted it.
In a tragic irony, just a week before the earthquake 50 scientists from around the world gathered in Kathmandu to discuss how the country could be better prepared. But it was too late to avert the loss of life that occurred just before midday local time on 25 April. With a magnitude of 7.8, and the epicentre in the middle of the country (Gorkha District), the quake has utterly devastated this scenic mountainous country.
Nepal's tallest building in the heart of Kathmandu, known as the Dharahara, collapsed, killing nearly 200 people. It was a nine-storey tower with a Hindu statue on the top. Many temples and other centuries-old buildings were destroyed or severely damaged at World Heritage sites in the Kathmandu valley. Throughout the country hundreds of thousands of people were made homeless, with entire villages affected. The most urgent needs reported by aid agencies were for food, water, temporary accommodation and medical assistance.
Sunday is a working day in Nepal, so Christians normally meet to worship together on Saturdays. Many Christians were in church services when the earthquake struck. It is widely reported that at least five hundred Christians were killed in various churches when church buildings collapsed.
Operation Mobilisation
Nepal is a country that for decades has been close to the heart of OM's founder George Verwer. Just a few weeks before the earthquake, he was preaching in Kathmandu where he celebrated his 60th spiritual birthday with over 100 people.
All OM workers have been accounted for and their teams are safe. They report that God's hand of protection was on their team members and their homes. The relief work in the local community around the OM Nepal Training Centre is progressing well. They say that in this area many houses made of brick or mud were severely damaged and some villagers are even unable to get inside to retrieve anything. OM Nepal has packed food bags to distribute to those in need. This has also provided opportunities to share the gospel with people.
Pastors' Training International (PTI)
On 2 January, Merv Neal flew over the magnificent Himalayas to Kathmandu. He preached in a church there on the Saturday and then led a Pastor's Training Conference which began on the Sunday. It was PTI's first conference in Nepal, attended by 51 delegates. One pastor even brought a friend who gave his life to Christ during the conference.
The day after the earthquake, Merv wrote in an email: 'We have been getting lots of messages from pastor friends all over Nepal. Praise the Lord none have been harmed. Most slept outside last night for fear of aftershocks. I go to Darjeeling in two weeks time to train mainly Nepali-origin pastors.'
PTI's Director of Ministry Simon Percy was pleased to report that Pastor Samuel Rai, a man that PTI and Christian Books Worldwide have been working with in Nepal, was alive and well.
Samuel Rai wrote of his church's plan to send a relief team to the worst-affected areas of Gorkha and Kathmandu with food, medicine, blankets, clothing, tents and water supplies. He urges Christians in the UK to pray: 'Churches are being challenged,' he wrote; 'so we will not only pray, but move forward to plant the gospel seed too.'
Barnabas Fund
Barnabas Fund is working with church partners in Nepal to provide desperately needed aid for Christians there. They are committed to helping local churches where volunteers have been mobilised in the rescue efforts and in distributing emergency aid. They have sent an initial grant to supply water, food, medicine, basic hygiene kits and temporary shelter, and to cover funeral costs.
Gospel for Asia
With a wide reach of 450 churches and 20 Bridge of Hope Schools, Gospel for Asia (GFA) was in a unique position to provide aid immediately. Narayan Sharma, leader of the GFA-supported work in Nepal, reports: 'I was at the podium, sharing about the Bible, when the church began shaking. I requested our 100-plus believers not to panic… According to latest information, seven Believers Churches are damaged, and we have received unconfirmed reports of two deaths of our believers.'
GFA Compassion Services teams are providing medicine, hot meals, purified drinking water and shelter to survivors in many remote villages.
Other reports
Asia Link says that one of their priorities is those people who are furthest from help. Many areas of Nepal are extremely remote and they are often also those areas least reached by the gospel. One of Asia Link's partners will be commandeering hundreds of donkeys to help transport crucial supplies including tarpaulin, rope, portable water filtration systems, medicine and food.
Pastor Narayan Bhagat, director of New Life Disabled Centre, reported that 'It was almost at the end of the service when the ground under us started to shake violently. Everyone was so scared. Immediately, my eyes looked to he who is the Almighty God sitting on the throne and who rules the heaven and the earth.' Narayan assured the congregation that the Lord was in control and immediately instructed everyone who was able-bodied to help the disabled people evacuate. So the 35 wheelchair-bound people were helped outside. They saw houses all around collapsing one after the other. Providentially, their building remained intact with minimal damage.
Pastor Chandra Shrestha, who heads up Nepali Evangelical Church Ministry, was – like many other pastors across Nepal – leading a service in Kathmandu when the earthquake struck. He mentions that many are traumatised and terrified of aftershocks. He says: 'We lost a young man, a son of a member of our church.' Around 45 houses belonging to his church members collapsed, while many more are severely damaged. He requests prayer that 'God may intervene in Nepal for great revival so that Nepalese may come to the saving knowledge of the one true God'.
The Revd N. Thawndoulian from Manipur (India) is the Field Superintendent for the Evangelical Baptist Convention's Nepal Mission Field. He reports that their church building is damaged and members' houses are totally destroyed in the Kathmandu Lalitpur district (one of the three districts in the Kathmandu Valley). Their most urgent need is for food supplies and building reconstruction. Christians 'are in need of encouragement and help to rebuild their lives physically and spiritually'.
Dr Uttam Mohanpatra, managing director of Duncan Hospital, Raxaul (India), close to the Nepali border, reports that 14 victims came to the hospital and received treatment; sadly, one died in casualty. The hospital sent two junior medical officers and a nurse to Nepal to team up with the Emmanuel Hospital Association's Disaster Management Team. EHA has a well prepared team, and they immediately sent two vehicles to different destinations. Their emergency plan included mobilising 25 doctors. In the longer term, they will provide shelter for up to 10,000 people, warm clothes, food and drinking water, and post-disaster psychosocial care training.
Second earthquake
On 12 May a second earthquake hit Nepal with initial reports of at least 110 deaths and many hundreds of injuries.
This from a missionary in the country who experienced it: 'This latest quake has affected the region east of Kathmandu badly with many landslides, some trapping vehicles that were already trying to take aid to the area. Do pray for those trapped to be rescued. After the first earthquake, one friend was returning here on a flight from Istanbul and it was half full of search and rescue teams. Within 12 hours of the quake – what a response!'
How should we respond?
We can respond to the tragedy in three ways: Prayer, Provision and Partnership. Firstly, our Nepali brothers and sisters covet our fervent prayers. Secondly, they urgently need our provision of generous long-term financial support so that they can bring relief to thousands. Thirdly, they value our partnership in the gospel, which for some could mean visiting Nepal and coming alongside national Christians in practical fellowship.