Wales: considering needs
Pastors and leaders from FIEC churches across Wales gathered for a 24-hour meeting at the end of April to discuss how best to serve the gospel in the Principality.
Phil Topham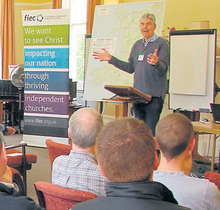 The FIEC Wales Consultation was an opportunity to hear about the work God is doing in Wales, to encourage pastors and to pray together. Delegates discussed the history of evangelicalism in Wales and reflected on the unique challenges of ministering in a country which has its own language and is largely rural.