EDO could backfire on Hebdo
On 13 May, the Government announced that a counter-terrorism bill including plans for Extremism Disruption Orders (EDOs) will be included in the Queen's Speech.
The Guardian / The Christian Institute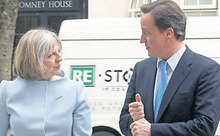 These were proposed in March during the last parliament by the Home Secretary, Theresa May, but were vetoed by the Liberal Democrats on the grounds of free speech. The Christian Institute warned that EDOs could have many unintended consequences, will seriously damage free speech and could even outlaw the distribution of publications such as Charlie Hebdo in the UK.
Many will welcome the Government's commitment to prevent the spread of Islamic extremism both at home and abroad. But what is known about the proposed (EDOs), as well as countless precedents, suggests that they will be badly defined and will be used to target many more people than intended by the Government.
Simon Calvert of The Christian Institute commented: 'It would be easy to make the case that the distributors of the Charlie Hebdo magazine were 'spreading hate' on the grounds of religion. How ironic it would be if extremists could use EDOs to achieve what their violence could not – the silencing of criticism of their beliefs."
Mr Calvert continued: 'We understand the Prime Minister has made clear that he wants to protect "freedom of worship". But freedom of worship is not the same as freedom of religion. It is much narrower.'