Nigeria: new president
The Christian Association of Nigeria and the National Christian Elders Forum each issued congratulatory statements to Muhammadu Buhari, who won the presidential election on 28 March. They also praised Goodluck Jonathan, a Christian, for relinquishing power peacefully.
World Watch Monitor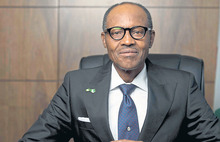 Buhari swept the majority-Muslim northern states, while Jonathan captured the Christian-majority southeast. The election was won for Buhari in the Christian southwest, home to his vice-presidential running mate, Yemi Osinbajo, pastor of the Redeemed Church of God, a large Pentecostal church in southern Nigeria. A coalition of southwestern clergy, under the banner 'Christians for Governance, Pastors for Change', endorsed Buhari.
A majority of Nigerians of all faiths had expressed dissatisfaction with the corruption endemic in Jonathan's government and its inability to put down the murderous Islamist insurgency of Boko Haram in the northeast.
Before the election, some Christians were concerned about what a Buhari victory would mean. Although he is a forthright corruption-fighter, Buhari is also a devout Muslim who, during his military rule from 1983-85, expressed the will to Islamise the country to the last corner.
Man of peace?
However, Buhari, now 72, has since run for president, and lost, three times. During the most recent campaign, he tried to reassure sceptics by defending the freedom of religion, noting that he is not a religious fanatic, and that he had never imposed shari'a law when he was in power.
In his victory speech he said: 'I assure you that our government is one that will listen to and embrace all. There shall be no bias against or favouritism for any Nigerian based on ethnicity, religion, region, gender or social status.'
Fear of violence kept many Christians away from the polls, as in the local government areas of Tudun Wada, Kibiya and Rogo, all in Kano State, and which, combined, have 370 churches. Voting was impossible for more than 100,000 Christians who have fled their homes to escape Boko Haram. Buhari had made the defeat of Boko Haram a centrepiece of his campaign.
'In his campaign speeches in the 2003, 2007 and 2011 elections he expressed strong commitment to Islam and shari'a law. Such a position has reinforced this kind of fear in the heart of Christians', said the Revd Gideon Para-Mallam, regional secretary of the International Fellowship of Evangelical Students (IFES).
'But the Buhari we've confronted in 2015 is not the same Buhari we have seen in the past', he said. 'He met with Christian leaders and assured them that he has no Islamic agenda. This was reiterated in his campaign speeches.'
As in democracies everywhere, Para-Mallam warned against setting expectations too high on the election winner.