Street preacher fined
Ex paratrooper and street preacher Michael Overd was, in March, convicted of a Public Order Offence for using the 'wrong' Bible verse in a public conversation, but was also acquitted of two other public order charges.
Christian Concern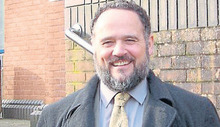 In a highly unusual judgment, the preacher was told by the judge, Shamim Ahmed Qureshi, that he should not have referred to Leviticus 20 to make his point but clearly indicated that he could have used chapter 18, as the former refers to the death penalty but the latter to homosexual practice as an 'abomination'. Mr Overd said that he was being punished for words which 'didn't even pass my lips' as he had not referred to the death penalty in his conversation or preaching. He also noted that he was ordered to pay compensation for causing 'emotional pain' to someone who approached him aggressively demanding to debate the issue [of homosexuality].