Chomp!
Children from one of Wales's most deprived areas are getting free hot meals after school – thanks to a partnership between the local church and school it was reported in March.
Mike Thomas,

thomas@countiesuk.org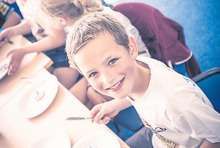 Counties evangelist Mike Thomas is leading Chomp!, a new after-school club at Rumney Gospel Chapel in East Cardiff. The weekly club offers children the chance to cook hot and nutritional meals, which they then eat together along with their parents.