Attracting the suspicious
The blurb on the back says 'The single fastest-growing religious group of our time is those who check the box next to the word none on national surveys. In America, this is 20 percent of the population [25% in the UK 2011 census]. And most churches are doing virtually nothing to reach them.'
Martin Salter,

co-pastor, Grace Community Church, Bedford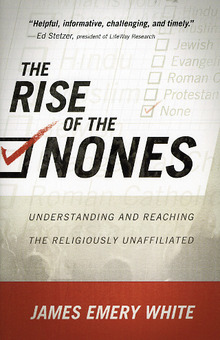 THE RISE OF THE NONES
Understanding and Reaching the Religiously
Unaffiliated
By James Emery White
Baker Publishing. 221 pages. £9.99
ISBN 978 0 801 016 233
This book seeks to address that challenge – reaching and engaging those who profess no religious affiliation. James Emery White is a US pastor, and the temptation would be to dismiss the book as irrelevant to the UK scene. However White's analysis rings true of our culture and our churches too, which makes it essential reading for those serious about reaching the emerging culture.
Away from the sacred canopy
The argument of the book is in two parts. In the first part White gives a snapshot of the typical 'none' and outlines how the culture has arrived at its current climate. Crucially, he observes that many 'nones' are not hostile atheists; many are spiritual but suspicious of organised religion. White's contention is that the processes of secularization, privatization and pluralisation have led us away from Berger's 'Sacred Canopy' to a field of individual tents where each individual worships whatever and however they see fit.
The second part of the book suggests some ways to engage the 'nones'. Two major things that struck me were as follows: a) our lives as individuals and churches have the power to attract the spiritual but suspicious. Our community engagement can have missional impact, and provide plausibility for our message. b) some US research suggests that 82% of people would attend a church service if invited by a friend; and yet, another piece of research suggests that only one in six people are friendly towards newcomers or outsiders.
This is one of the best books I've read in the last year. While I would have reservations about some of the author's ecclesiology, its practical usefulness should not be underestimated.