Would you hire Joyce Meyer?
Thousands of Christians watch her on TV, but Mike Gilbert asks if Joyce Meyer stands for biblical Christianity?
Mike Gilbert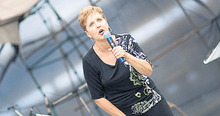 The Holy Trinity Brompton Leadership Conference is due to take place in May.
It's at the Royal Albert Hall and the Hammersmith Apollo. Among the speakers is Joyce Meyer, perhaps the most well known woman speaker in the United States.
Spurgeon once said that spiritual discernment was not a matter in deciding what was right and what was wrong, but that which is right and that which is nearly right.
Prosperity gospel
The Word-Faith Movement (WFM) that Joyce Meyer is part of sees Almighty God as an omnipotent facilitator to secure acquisitions for those who exercise 'faith'. Rightly, most Christians do not take kindly to the 'Believe and Receive', 'Name it and Claim it', 'Doubt and Go Without' doctrine advocated. These teachings are dangerous diversions based in the metaphysical speculations of the late 19th century and not in Scripture.
Are we not repeatedly told in Scripture about the folly of ambitions concerning wealth? 'But those who desire to be rich fall into temptation and a snare, and into many foolish and harmful lusts which drown men in destruction and perdition.' (1Timothy 6.9)
Consequently, it was not just the extravagant nature of Ms Meyer's acquisitions like a private jet aircraft or her large properties1 but the inauthenticity of her teachings with respect to Scripture which sounds alarm bells. Are worldly acquisitions always blessings? Those who promote this doctrine include the likes of Benny Hinn, Ken & Gloria Copeland and Paul & Jan Crouch.
Recent groups which seem to stray in the same direction include Hillsong who teach that to 'use God' for your own health/wealth/comfort/ambitions is a directive, a state to be sought. But Scripture teaches complete reliance on the God who loves us and uses us – not the other way round. Usually this is to further his gospel of salvation – but not to make us rich.
Not a sinner?
There is a video you can see on YouTube where Joyce Meyer says as part of the 'positive confession' philosophy: 'I am not poor. I am not miserable and I am not a sinner. That is a lie from the pit of hell. That is what I were and if I still was then Jesus died in vain. I'm going to tell you something folks. I didn't stop sinning until I finally got it through my thick head I wasn't a sinner anymore. And the religious world thinks that's heresy and they want to hang you for it. But the Bible says that I am righteous and I can't be righteous and be a sinner at the same time.'2
This is very different from Martin Luther who taught that we are justified sinners. Do we not all sin constantly on the road of sanctification? Have we shaken off all of our old selves? Did Paul mean what he wrote in Romans 7.19: 'For I do not do the good I want to do, but the evil I do not want to do – this I keep on doing. Now if I do what I do not want to do, it is no longer I who do it, but it is sin living in me that does it. So I find this law at work: Although I want to do good, evil is right there with me. For in my inner being I delight in God's law; but I see another law at work in me, waging war against the law of my mind and making me a prisoner of the law of sin at work within me. What a wretched man I am! Who will rescue me from this body that is subject to death? Thanks be to God, who delivers me through Jesus Christ our Lord!'
Extravagant worldly words
No doubt some things which Joyce Meyer teaches are good. But these should not blind us to the problems. There are many who take comfort from the WFM and their extravagant but reassuring worldly words – but we can be so misled. We are all vulnerable to loud and compelling convicted orators.
So let us be cautious and apply 1 Timothy 6.5, 9-11. Instead of seeking wealth, the Bible warns against pursuing it. All believers, especially leaders in the church (1 Timothy 3.3) are to be free from the love of money (Hebrews 13.5). The love of money leads to all kinds of evil (1 Timothy 6.10). Jesus warned, 'Watch out! Be on your guard against all kinds of greed; a man's life does not consist in the abundance of his possessions' (Luke 12.15).
In sharp contrast to the Word-Faith Movement's emphasis on gaining acquisitions, Jesus said: 'Do not store up for yourselves treasures on earth, where moth and rust destroy, and where thieves break in and steal' (Matthew 6.19). The irreconcilable contradictions between prosperity teaching and the gospel of our Lord Jesus Christ is best summed up in the words of Jesus in Matthew 6.24, 'You cannot serve both God and money.'
Mike Gilbert is a retired educationalist who has an interest in apologetics and the origins of some American religious groups.