Nigeria: missionary freed
On 7 March the Free Methodist Church USA announced the release of its kidnapped missionary in Nigeria, Phyllis Sortor.
Morning Star News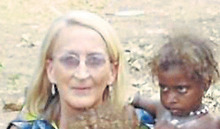 In a statement signed on behalf of the Board of Bishops of the church, David W. Kendall said 71-year-old Sortor was released by her captors on Friday evening, 6 March. He said armed gunmen abducted Sortor on 23 February from Hope Academy school in Emi-Oworo village in the central Nigerian state of Kogi.