Wharf-wide witness for Christ
A partnership of St Peter's Barge, the Oxford Centre for Christian Apologetics and several Christian networks within Canary Wharf, held a week-long event entitled a Festival of Thought, in late February.
en staff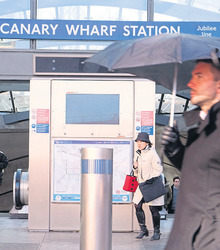 Events took place during lunchtimes and early evenings hosted by groups of Christians who work in various companies based in Canary Wharf (Wharfites) and by St Peter's Barge. The Barge is known as London's floating church where regular lunchtime meetings are held for Wharfites, as well as being the base for church meetings on Sundays. The Festival of Thought was the biggest event the Barge had been involved in.